By Damon Watson |
10
May 2022 |
0
Comments
What is GPON ONU(ONT) and GPON OLT?
GPON (Gigabit Passive Optical Networks) stands for the latest standard of PON access broadband based on ITU-TG.984x, which can provide high broadband, highly efficient service, wide-range signal coverage, and abundant access ports. It is considered as the ideal technology to achieve different demands for access networks by the operators. Accordingly, There are GPON ONU and GPON OLT. What are GPON ONU and GPON OLT exactly? Just read the below to get more info.


1. What is GPON ONU(ONT)?
The GPON ONU (optical network unit) or ONT (Optical Network Terminal) is usually located at customers' premises. It's also described as CPE units. There is a little bit of
difference between ONU and ONT
but we generally consider them as one thing. Moreover, there are different configurations for the ONU/ONT devices. Some have Gigabit Ethernet or Fast Ethernet ports, others may support analog phones or wireless Internet.
V-SOL Related Product:
V2804RGT: 1GE+3FE+CATV
GPON ONU
This device has 1 Gigabit Ethernet port, 3 Fast Ethernet ports and 1 CATV port. It's fully compliant with IEEE 802.3ah specifications. It supports NAT, Firewall, VLAN, DHCP Server, and IGMP snooping multicast.
2. What is GPON OLT?
The GPON OLT connects the ODN (optical distribution network). There are two transferring directions of OLT. One is upstream, which is used to distribute different types of data and audio traffic from users. The other one is downstream, which acquires data, audio and video traffic from MAN and toll network.
V-SOL Related Product:
The V-SOL
GPON OLT
has 4/8/16 ports with supporting Cloud BS-EMS OLT management software. It adopts Layer 3 dynamic routing protocols of RIP/OSPF, It's capable of automatic routing switch for uplink to protect data transmission.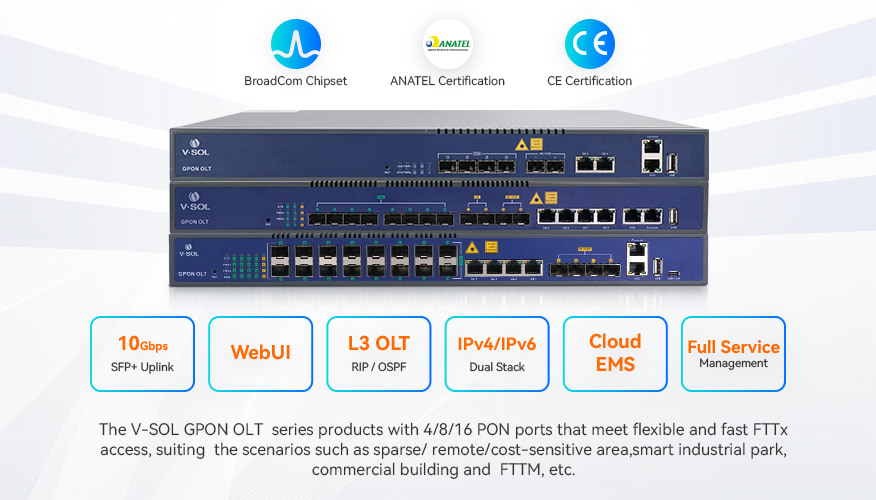 Besides, V-SOL also has an
outdoor GPON OLT
with 8 ports and EDFA. It's equipped with a dual independent power supply and the working temperature ranges from -40°C to 70°C, which can be set up outdoor like the pole, saving the fees of venue and maintenance.
What else would you like to learn about the GPON ONU and GPON OLT? Comment below to let us know!
Leave a Reply
Your email address will not be published.Required fields are marked. *