By Damon Watson |
22
August 2022 |
5
Comments
What is 5G CPE: Features, Comparison, and Solution
5G CPE is getting more and more popular with the occurrence of 5G and CPE. But most people are not familiar with it and don't know its difference from other networking devices such as ONU, WiFi router, mobile WiFi, etc. Some people also don't know how to get well used. Now in this article, we will get a detailed analysis of the features and solution of 5G CPE. A comparison among different networking methods is also listed.
---
Page Contents:
1.
What is 5G CPE?
2.
Why choose 5G CPE?
3.
V-SOL 5G CPE Solution: Wireless Home Broadband
---

5G CPE (Customer Premise Equipment) is a 5G terminal device, which is aimed at making more users' devices such as mobile phones, iPad or PC connected to the Internet through receiving the 5G signals issued from the 5G base station and then transferring them into WiFi signals or wired signals.

We can consider 5G CPE as a small base station or a combination of router and mobile WiFi. When some corners of your house/company cover a weak signal or when you go to some areas far like mountains, you can use the 5G CPE to enhance or covert the signals. In addition, it's easy to carry on and users can visit the Internet anytime and anywhere.
Someone may think that 5G CPE is similar to mobile WiFi or router. Actually, they are different. In the next part, we will make a detailed comparison to help you learn CPE well.

---
1. 5G CPE vs ONU
Exactly, ONU also belongs to CPE. But the ONU connects to the optical fiber access devices and 5G CPE connects to the 5G base station. 5G CPE adopts 5G chips that are similar to or the same as the 5G mobile phones', which has a powerful connecting capacity of 5G, supporting SA/NSA networking and 4G/5G. Its speed is equally matched to ONU. However, compared with ONU, CPE is more flexible and movable. In some scarcely populated areas, it's difficult and expensive to deploy the optical fiber. Therefore, these areas always visit the Internet by setting up outdoor CPE to receive and convert the signals from the base station into local signals.
2. 5G CPE vs WiFi Router
5G CPE is a combination of the 5G modem and WiFi router. The devices can access the Internet by connecting to the WiFi or LAN port of CPE through inserting the 5G SIM card. However, WiFi Router is a WiFi Signal projector that connects to the modem, router or switch via cables. Then, the smart devices are able to receive the WiFi signals and acquire the network. The WiFi router can't provide the network if there is no cabling.
3. 5G CPE vs Mobile WiFi
In fact, 5G CPE can be regarded as an improved version of mobile WiFi. But the antenna gain of 5G CPE is stronger. 5G CPE's capacity of receiving and issuing signals is also more powerful than the mobile phone's, which makes 5G CPE used in the test of 5G application outdoor. In addition, 5G CPE is faster in transmission, covering a larger area and supporting much more devices.
4. 5G CPE vs Cable Network
It's obvious that it has to cost a long period and fees to set up the cabling network from deploying the cables to installation. There is also no need to do this for some short rental or traveling people. The unnecessary cost will be saved with using 5G CPE. It's easy to carry on and allows plug and play.
Conclusion
All in all, 5G CPE perfectly integrates the low cost of WiFi with wide bandwidth. Below are three main features:
● Flexible and movable:
Different from the ONU and WiFi router that are fixed on a place, 5G CPE is easy to carry on and can be taken to anywhere covering 5G signals.
●
Convenient and Low cost:
With the SIM card, the 5G CPE router enables you to surf the Internet. No expense and time need cost as other ways.
●
Equally matched performance:
5G CPE is comparable to ONU/WiFi router/mobile WiFi whether in transmitting speed, connectable devices or range of coverage.
---
Besides using 5G CPE to solve weak signals indoor or outdoor, 5G CPE is also well applied in setting up wireless home broadband and industrial IoT. V-SOL proposes regarding solution in line with its 5G CPE devices.

Outdoor 5G CPE with Mesh Networking:
The following image is the frame of setting up home broadband with V-SOL Outdoor CPE XGC5552 and WiFi mesh router HG3610ACM. Now let's learn these two products first.
① 5G Outdoor CPE XGC5552

●
The download rate reaches
3.5Gbps
●
It supports
PoE Power Supply
●
There is a 2.5 Gigabit LAN port.
●
The 5G CPE device can be installed on the
walls or pole
, which can withstand terrible weather whether rainy or of high temperature.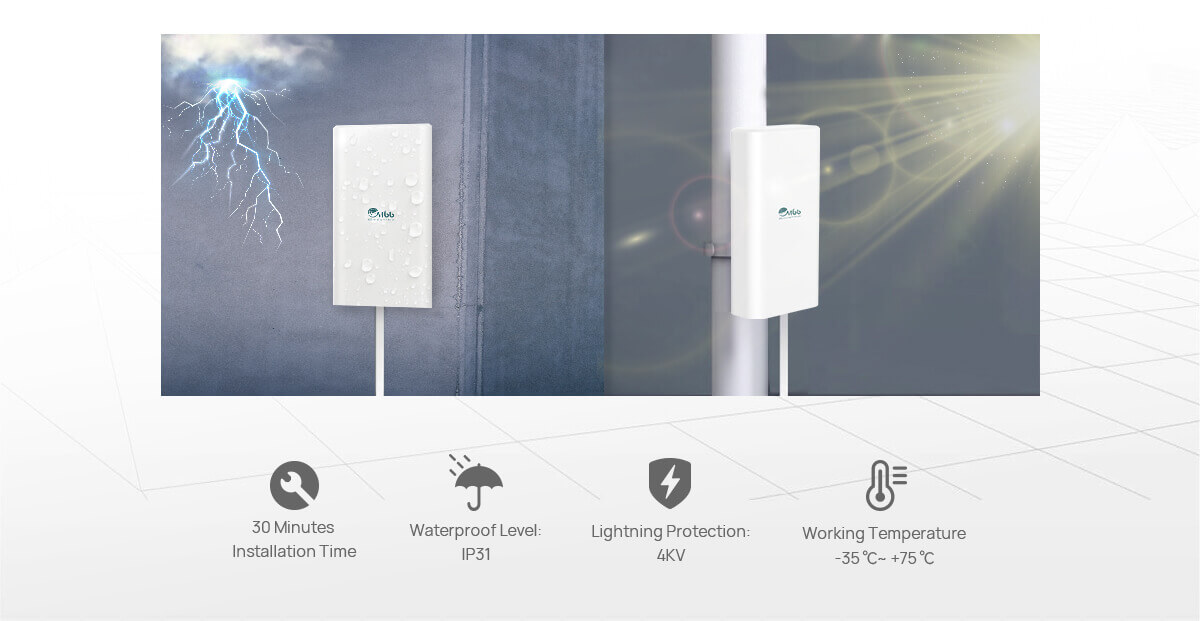 ② WiFi Mesh Router HG3610ACM

●
There are two
WAN/LAN ports
and a DC 12V/1A.
●
It supports
dual bands
of 2.4GHz and 5GHz with combined throughput of 1.2Gbps including 300Mbps at 2.4GHz and 867Mbps at 5GHz.
● Built-in PA & LNA
in the chip improve the signal coverage and stability.
● 4 high gain antennas
make the signal stronger and the maximum number of connecting devices reaches up to 128.
As we can see from the image, the 5G outdoor CPE receives 5G signals from the 5G base station. Then it transmits the electrical signals to the wifi mesh router by connecting both devices with a cable. This wifi mesh router also will work as the main router. There are several wifi mesh routers placed around your home, which are slave routers. These wifi mesh routers in your house will set up the mesh wifi network. In this way, a wireless home network is created successfully.

Compared with the traditional cabling network or optical fiber access network, isn't it much more convenient and fast?

In addition to being applied in the test of various 5G occasions, 5G CPE also can be used in industrial IoT like smart factory. With the combination of MEC edge computing point involving the 5G core network and the edge computing cloud platform, the industrial Internet can be connected and applied in more detecting or monitoring demands. The unlimited potential of 5G CPE is waiting for exploration.

Leave a Reply
Your email address will not be published.Required fields are marked. *